Your Makeup Remover Got you Feeling a Little Weathered?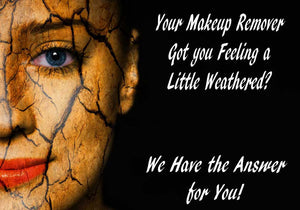 Your skin is one of the most resilient organs you have, you can do a lot of damage to it and it still looks pretty good.  So if your face is a little weathered there are a few simple steps to take to make great improvements on the appearance of your skin. 
Remove your makeup at night
Sound simple enough, right? You may say, well I use a makeup remover every night and my face is clean. But is it really, do you know what is in your chemical makeup remover? In a previous post, I talked about what chemicals are in some of the top selling chemical makeup removers and it is absolutely shocking.
Just using a chemical makeup remover is not enough, you are replace one layer (makeup) with another (chemical makeup remover). The residue will actually start aging your skin by retaining free radicals. Your skin will begin to dry out and become more sensitive. This is not a good thing.
Just ask yourself if putting the following on your face is good for you. If you don't have a clue then you need to keep reading.  Cetyl Ethylhexanoate, Isostearyl Palmitate, Pentaerythrityl Tetraethylhexanoate, Isononyl Isononanoate, Cyclopentasiloxane, Hexylene Glycol, PEG 4 Laurate, PEG 6 Caprylic/Capric Glycerides, Sucrose Cocoate, Carbomer, Sodium Hydroxide, Benzoic Acid, Dehydroacetate Acid, Phenoxyethanol, Iodopropynyl Butylcarbamate, Fragrance; these are found in a popular chemical makeup remover.
What to do, The Answer!
By all accounts the best thing to do is not to wear makeup (like that is going to happen!), there are alternatives that will completely remove your makeup including waterproof mascara with just plain warm water. The Living Chem Free Makeup Remover is the perfect solution. The only ingredient you need is water, you do not even use your soap. It is almost magical in the way that it gets it all off and the best part is that your skin is actually clean with no residue.