What Chemical Makeup Removers are doing to your Skin!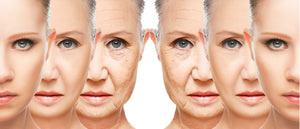 We have all heard one of one of the most crucial things we could do beauty-wise is to remove our make-up completely. The most important step you can take begins with using the very best makeup remover for you with as few chemicals as possible, preferably none.
When we sleep that is when our bodies recover as well as rejuvenates from the day- your skin is no exception. If makeup remains on the skin overnight, it is hindering the skin's opportunity to rejuvenate.
Makeup prevents the Free Radicals from leaving your body, when your body retains the Free Radicals your skin will age quicker, you will be more prone to acne breakouts, your pores become clogged and wrinkles will develop quicker.
The best advice is to remove makeup before retiring for the evening and to remove it completely. Not all makeup removers are equal, some still leave residue on your skin and because of their chemical compounds are just as hard as the makeup to remove.
These chemicals can cause a whole set of issues with your skin as well. We all want to be diligent to make sure what we put on our bodies is safe and does not cause any other problems. Lets look some of the ingredients for some of the top chemical makeup removers, these were taken straight off Amazon.com.
Chemicals in Popular Makeup Removers
Neutrogena Cleansing Oil-Free Eye Makeup Remover
Ingredients: Tripotassium EDTA, Benzalkonium Chloride, Glycerin, Cucumber Fruit Extract (Cucumis Sativus), Potassium Phosphate, Dipotassium Phosphate, Phenoxyethanol.
Neutrogena Makeup Remover Cleansing Towelettes
Ingredients: Water, Cetyl Ethylhexanoate, Isostearyl Palmitate, Pentaerythrityl Tetraethylhexanoate, Isononyl Isononanoate, Cyclopentasiloxane, Hexylene Glycol, PEG 4 Laurate, PEG 6 Caprylic/Capric Glycerides, Sucrose Cocoate, Carbomer, Sodium Hydroxide, Benzoic Acid, Dehydroacetate Acid, Phenoxyethanol, Iodopropynyl Butylcarbamate, Fragrance
Bioderma Crealine TS H2O Micelle Solution
Ingredients: Water (Aqua), PEG-6 Caprylic/Capric Glycerids, Glycerin, Po-Lysorbate 20, PEG-40 Hydrogenated Castor Oil, Ammonium Lactate, Plan-Tago Major Leaf Extract, Mannitol, Xylitol, Rhamnose, Fructooligosaccharides, Propylene Glycol, Disodium Edta, Cetrimo-Nium Bromide.
Garnier Skin Active Micellar Cleansing Water All-in-1 Cleanser and Waterproof Makeup Remover
Ingredients: AQUA/WATER, CYCLOPENTASILOXANE, ISOHEXADECANE, POTASSIUM PHOSPHATE, SODIUM CHLORIDE, HEXYLENE GLYCOL, DIPOTASSIUM PHOSPHATE, DISODIUM EDTA, DECYL GLUCOSIDE, POLYAMINOPROPYL BIGUANIDE. F.I.L.# D178190/1
Philosophy Just Release Me Eye Makeup Remover, 6 Ounce
Ingredients: water (aqua), cyclopentasiloxane, aloe barbadensis leaf extract, avena sativa (oat) kernel extract, benzalkonium chloride, butylene glycol, chamomilla recutita (martricaria) flower extract, citric acid, cucumis sativus (cucumber) fruit extract, echinacea purpurea extract, poloxamer 182, propanediol, sodium chloride, tetrasodium edta.
We are sure these are all fine products from reputable companies. The point is look at the chemicals that you are putting on your skin.
Living Chem Free has a better solution, that we feel is quite frankly healthier for you and your skin. That is the Living Chem Free Makeup Remover cloth. The best part is, do you know what the only chemical you use? H2O - That's right simple water. This amazing cloth removes all your makeup with just plain warm water. You have to ask yourself, which is best for my skin, all the chemicals or water.  The answer is all too apparent.